Once regarded primarily as a retirement community, this coastal suburb of Fort Lauderdale is on the verge of an exciting transformation. The current Hallandale Beach development pipeline has the potential to reshape this city, positioning it to compete more effectively with nearby Aventura, Hollywood, Sunny Isles and Fort Lauderdale for affluent residents and employers. In this article, we discuss a sampling of the most significant projects that have already been approved and offer a more comprehensive list of Hallandale Beach Developments – both approved and proposed.
Diplomat Golf Course Gets a Makeover
The City has recently approved a redevelopment of the Diplomat Golf Course. The preliminary plan would consist of an expansion of the current hotel and country club by adding three hotel towers totaling 938 new rooms to go along with approximately 71,000 SF of accessory space. The fourth tower would be a 30-story residential building consisting of 250 units. The project would also include four two-story homes. It has been estimated that the redevelopment would generate 600 permanent jobs. The address is: 500-501 Diplomat Parkway.
Hyde Resort & Residences Brings Luxury Units to the Market
Hyde Resort & Residences is a luxury condo-hotel comprised of 367 resort condos and 40 ultra-luxury oceanfront condo residences. The units are individually-owned but operated as part of a hotel pool. The unit owners' personal use of their units are limited to no more than 150 days each year. The luxury building offers top-of-the-line amenities in addition to breathtaking views of the Atlantic Ocean. A high-end restaurant called Etaru is located on the premises, offering fine-dining to residents, hotel guests and the public. The address is: 2801 E. Hallandale Beach Boulevard.
New Class-A Office Building Hoping to Attract Employers
The City Commission has recently approved plans for the Optima II office building located on US-1 just north of the Hallandale Beach/Aventura border. The Class-A building will be 28-stories tall, contain 269,566 square feet of offices plus 5,689 square feet of bank space. The address is: 1010 S. Federal Highway.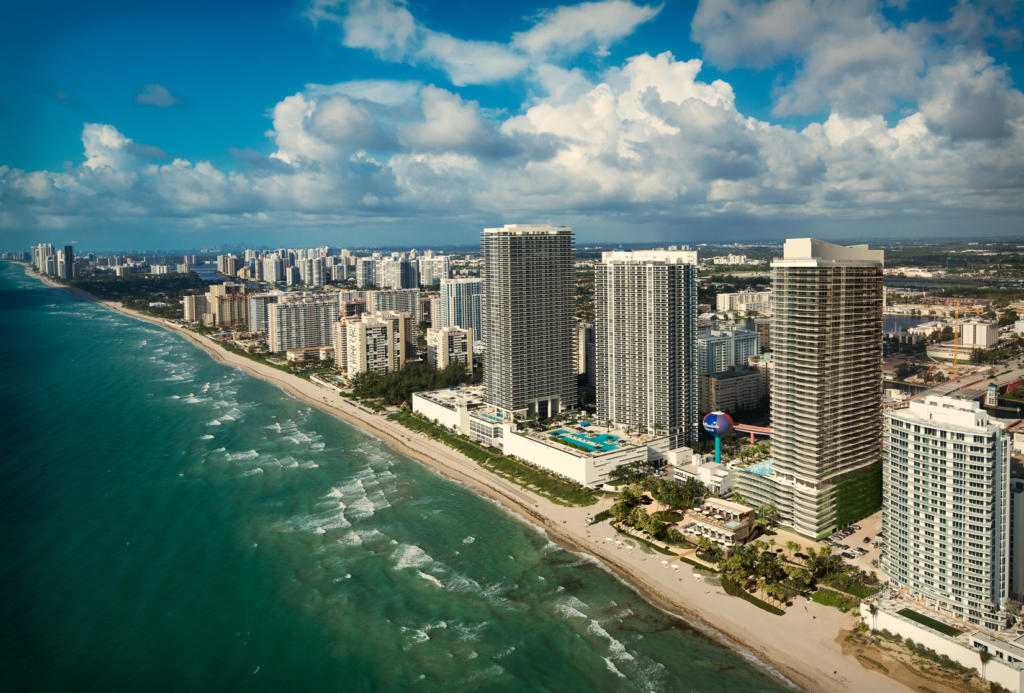 3 Exciting Suburban Mixed-Use Projects in the Works
Hallandale Artsquare is a mixed-use development currently being developed by an affiliate of Miami-based Integra Investments. The project will include 358 multifamily units and 12,755 square feet of commercial space. The plans call for 268 mid-rise units (6 to 7 stories) plus 90 units in three-story garden apartment buildings. Residents will have access to upscale residential amenities and a multi-level parking structure plus surface parking. This project is located at: 301-409 N. Federal Highway.
Hallandale Oasis is a mixed-use development consisting of a 19-story hotel, twin 26-story condo towers, a 10-story office complex and a one-story retail building with a restaurant offering rooftop dining. There will be a total of 500 luxury condos and 200 hotel rooms. Construction hasn't commenced yet and the developer (Romagnole Investment Properties) projects it will take five years to complete. The address is: 1000 E. Hallandale Beach Boulevard.
The Hallandale Beach City Commission approved the Nine Hundred Building mixed-use tower on June 1, 2016. The 23-story building will consist of 320 residential units, 150 hotel rooms and 5,871 SF of commercial space. The address is: 900 S. Federal Highway.
New Retail Underway Followed By More Retail and Multifamily
Atlantic Village is a new retail and commercial complex that is currently under construction and is nearing completion. The 32,000 SF retail complex will consist of restaurants and stores. The developer (Grupo Eco) is planning to break ground on a second phase consisting of commercial and residential units in 2018. The unit total for Phase Two has not yet been announced; however, published reports suggest the developer will target an Aventura audience of buyers at more competitive pricing and with a differentiated product. The project address is: 801 N. Federal Highway.
What's Driving Hallandale Beach Development?
The sample of projects summarized in this article comprise 1,468 multifamily units, 1,655 hotel rooms and more than one-half million square feet of office and commercial space. We believe the current surge in Hallandale Beach Development is being driven by its ocean orientation, the fact that it is positioned midway between the Fort Lauderdale and Miami central business districts, and its ease of access via Interstate 95. These extraordinary attributes have been recognized by developers in past cycles; however, the breadth and magnitude of the current development pipeline offers Hallandale Beach the prospect of achieving a fresh, more vibrant identity, elevating its "brand" to a level more consistent with some of its coastal neighbors.