Two of the oldest cities in Broward County are experiencing a long overdue surge in development activity. Some of the drivers fueling this Hollywood and Dania Beach development boom include:
Ideally-Positioned for Growth
Dania Beach and Hollywood are conveniently located relative to Interstate 95, 595 and Florida's Turnpike

Both cities are located between South Florida's major CBD's of Fort Lauderdale and Miami

Both cities enjoy excellent access to public transit including: Tri-Rail, the Hollywood Trolley, and Brightline's Fort Lauderdale commuter rail station which recently began service

Dania Beach and Hollywood are located immediately proximate to Fort Lauderdale International Airport (FLL) and Port Everglades

Both cities are proximate to two of the best beaches in the nation according to TripAdvisor:

Hollywood Beach ranked 6th and Fort Lauderdale Beach ranked 11th
Airport and Port are Strong Economic Drivers
Fort Lauderdale/Hollywood International Airport and Port Everglades are huge economic drivers for South Florida and both are currently undergoing major improvements that should bolster the local economy. These improvements include:
$1.6 billion of capital investments is planned for Port Everglades between 2014 and 2033 that will improve productivity for the cargo, cruise, and petroleum businesses. In 2016, Port Everglades ranked as the 2nd most active cruise port in the world and also ranked as the 11th leading container port in the United States.

Royal Caribbean and Port Everglades have commenced a $75 million renovation to the port's Cruise Terminal 25. The renovations are expected to be completed by October 31, 2018.

Several years ago, The Broward County Aviation Department implemented a $2.4 billion plan to improve the airport. These improvements include: a new South Runway, revamped terminals that will include more restaurants as well as improved connectivity between terminals, security checkpoint enhancements, restroom enhancements, expansion to Terminal 4, and new pedestrian bridges to connect terminals to parking structures. Some of these improvements have already been completed while others are currently undergoing renovation. These improvements will allow for more domestic and international flights.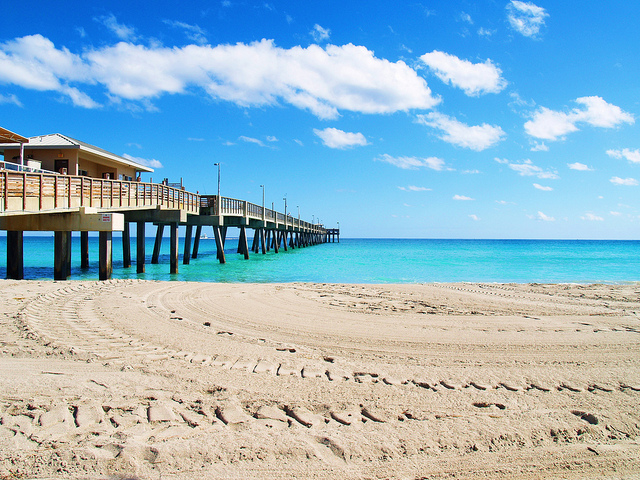 Hollywood and Dania Beach Development Pipeline
Hollywood and Dania Beach are uniquely-positioned to benefit from the current economic expansion and ongoing public and private infrastructure improvements. Savvy developers are making significant investments to participate in this trend and participate in the growth of this submarket. Major recently completed projects as well as projects comprising the Hollywood and Dania Beach development pipeline include:
Hollywood Projects
Margaritaville, a $147 million hotel and resort opened in September 2015 and has been a hit to both locals and out-of-towners. The project consists of 349 hotel rooms, eight bars and restaurants, a spa, multiple swimming pools, conference rooms, and ballrooms.

Circ Residences is a 25-story, mixed-use development located in Downtown Hollywood on Young Circle. The project is under construction and is approved for 397 upscale rental apartments, a 104-room boutique hotel, a 46,000 SF supermarket, and 15,000 SF of retail space.

Melia Costa Hollywood (CHC) is a $180 million mixed-use project that will consist of 304 condo-hotel units, 11,000 SF of retail space, 24,000 SF of restaurant space, meeting space, a gym, and a spa.

The Preserve at Emerald Hills is a master planned community that is currently under construction. It will consist of 40 luxury coach homes and 77 luxury estate homes.

Parkview at Hillcrest is a 243-acre residential development that will consist of 645 units including 275 single-family homes and 370 attached town houses. Phase 1 is currently under construction and Phase 2 will break ground in the near future.

Seaside Village is a boutique style development consisting of 15 waterfront condo units and 8 luxury single-family homes. The project is located along the Intracoastal Waterway and will also have a marina. Seaside Village is currently under construction.
Dania Beach Projects
Dania Pointe is a massive $1 billion mixed-use development approved for 1,000 apartments, 900,000 SF of retail space, 500,000 SF of office space, 300 hotel rooms, and a large entertainment center. This project is located on the 105-acre site along I-95 between Griffin and Stirling Roads.

Dania Jai Alai Casino recently underwent a $60 million renovation and has been rebranded as The Casino at Dania Beach.

The Sheraton Airport Hotel at Interstate 95 and Griffin Road is currently undergoing a $30 million redevelopment. The hotel will be rebranded to Starwood's "Le Meridien" which will include two new redesigned restaurants, a glass curtain facade, and the installation of large-scale artwork in common areas.

The Dania Beach Commissioners recently approved plans for Twin, 14-story apartment towers at 601 E. Dania Beach Boulevard. The 360-unit project will include a restaurant and retail space on the ground floor. The project will be replacing an old strip shopping center that was built in 1974.

The Place at Dania Beach, consisting of 144 rental apartments, was recently completed and is currently leasing apartments. Located along Dania Beach Boulevard, just east of US-1, the project will also include two levels of restaurants, retail space, and a rooftop swimming pool.

Prominent South Florida developer Dev Motwani recently purchased 2.2 acres on the corner of Dania Beach Boulevard and Federal Highway. The site is approved for an eight-story rental building with ground floor retail. Motwani estimates the 300-unit building will cost $70 million to develop.

There are three new limited-service hotels under construction along Federal Highway proximate to Dania Beach Boulevard. The first is a $21 million, 142-room Wyndham Garden Hotel that recently opened its doors for business. The second is a 240-room Comfort Suites expected to be completed in 2018. The third hotel under construction is a 143-room, Hotel Morrison, being developed at 28 South Federal Highway. This hotel recently opened as well.
We believe the current surge in development will be transformative for both cities but particularly for Dania Beach which essentially "sat out" the past development cycle. Today's development activity will help drive the local economy and elevate the stature of the Hollywood/Dania Beach submarket, setting the stage for further investment and development activity in the future.